If you haven't already, make sure to read the summary of Hack&Heal 2022 in our previous article ! In a nutshell, more than 360 applicants from 48 different countries worked to create solutions in three crucial health-related topics, and in support of Ukrainian refugees.
90 participants worked at the Budapest venue and the rest joined online, finally submitting 52 projects, doubling the number of solutions compared to last year's event.
The winner team, who came all the way from Debrecen, created an application helping the victims of war. This project was not only enough to convince the EPAM jury, but they also impressed the other contestants so much that they took home the Grand prize as well voted by their peers.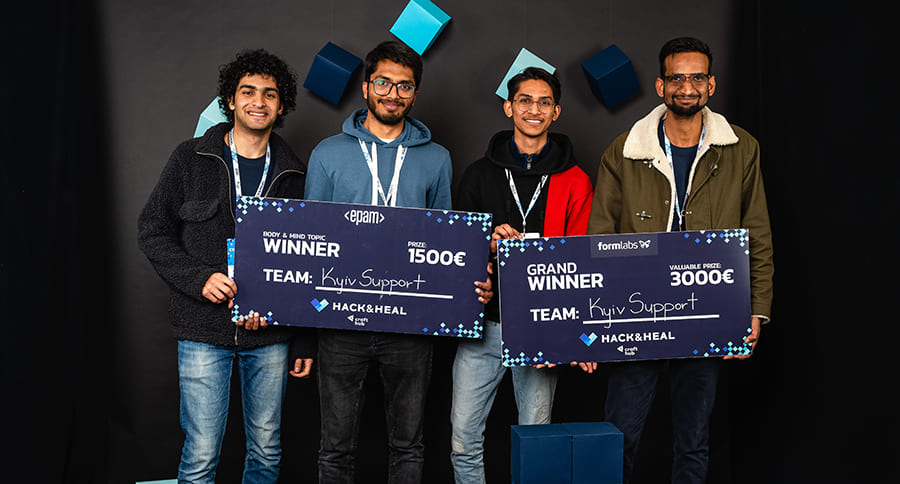 Check out their project on this link, and read the interview they've given us below!
What's your project about in a few sentences?
"Our project is to make a web application for Ukraine to get better food, clothing, and accommodation for those who are coming from war zones. There are groups on social networks to help them but it's quite hectic to keep scrolling and chatting to seek their support."
What was your main motivation to bring a solution to this specific problem?
"Our main motivation is to support humanity overall. We want there to be peace in this world over the manic leaders only just to show their power. Even our product tagline is Stand for Good."
What was the biggest challenge regarding this project?
"Our biggest challenge in this project is to get the easy and relational name of the product so that everyone can reach us. We choose Kyiv because it's the capital of Ukraine and Russia's main goal is to capture it. So we named it KyivSupport, if someone searches for the Kyiv new or related stuff, they can find the website in the top link and we don't have to do a lot of search engine optimization. And the second biggest challenge is to make the web application interactive so that people can feel that they have found the complete support package and it should be as user friendly as possible."
What was the best part / your favorite memory of this hackathon?
"The best moment about the hackathon is of course the winner announcement because we didn't expect this result. Apart from that, we worked together which was a great experience for all of us."

What are your plans with the prizes you won?
"Honestly, we haven't discussed it yet with the team. But our main objective is to use this money for the betterment that can contribute to professional development, not to waste it."
What would you say to those who are considering joining a hackathon but are not sure yet?
"For those who joined the hackathon, our message is that it's important to participate and put full effort. Winning doesn't matter. We saw the work of others and those were also great, best of luck to all of them in the future. And for those who didn't take part, our suggestion is to just try it out. Because you never know your potential until and unless you challenge yourself and push your limits, and it will unleash your hidden potential."
If you are interested in other hackathon participant interviews, make sure to subscribe to our Youtube channel! We are releasing a short video series with hackathoners, to get their perspectives on these events!