At the end of February, we wrapped up K&H HACK3 powered by MetaPlayers. Not only was it our very first hackathon in 2023, but it was also our first crypto and web 3.0-related event. 
Nearly 450 young IT developers registered and many teams took their chance to form their ideas into complex projects in Gamerland and online over the weekend. Taking advantage of the space, hackers used the plenty of gaming opportunities as ways to relax during these intense hours. Our mentors were also helping the competitor offline and online to develop their projects to the best of their abilities.
This time K&H, MetaPlayers, and IMK Consulting joined us to look for solutions that are currently challenging for them. Almost 100 competitors could join us offline, and young students' participation rate below 20 was at an all-time high!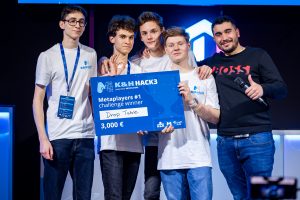 The youngest challenge winner team created the Drop Table project for one of the MetaPlayers challenges, a flexible ELO system specialized for team-based game factors that delivers fair results. Their team consists of 3 talented 17-year-olds and a 16-year-old high school student, becoming the youngest team to ever win at a CraftHub hackathon!
The winning teams' diversity didn't stop there. Most challenge winners were joining us offline, however, the IMK challenge prize was taken home by a team, joining us fully online from Szeged! Their innovative project (JoGPTár) is a ChatGPT-like chatbot for answering Hungarian legal questions.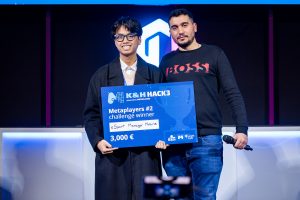 The second challenge of MetaPlayers was won by The ESport Manager Mobile team who improved the existing app making it more relevant and accessible to more users. Half of the Vietnamese team joined online, and one of their team members represented their unique idea at the live pitches offline.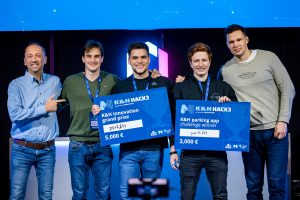 Finally, the ParK&H team won K&H's challenge and the K&H  innovation grand prize as well! Their idea was an app that supports the efficient and simple operation of the parking lot with the active and committed involvement of the employees.
This event was an extremely fun and successful start of the year for our team. Check out the aftermovie and make sure to follow us to see what we have for you next!