Interview with the two founders of Craft Conference – a leading developer conference in the tech world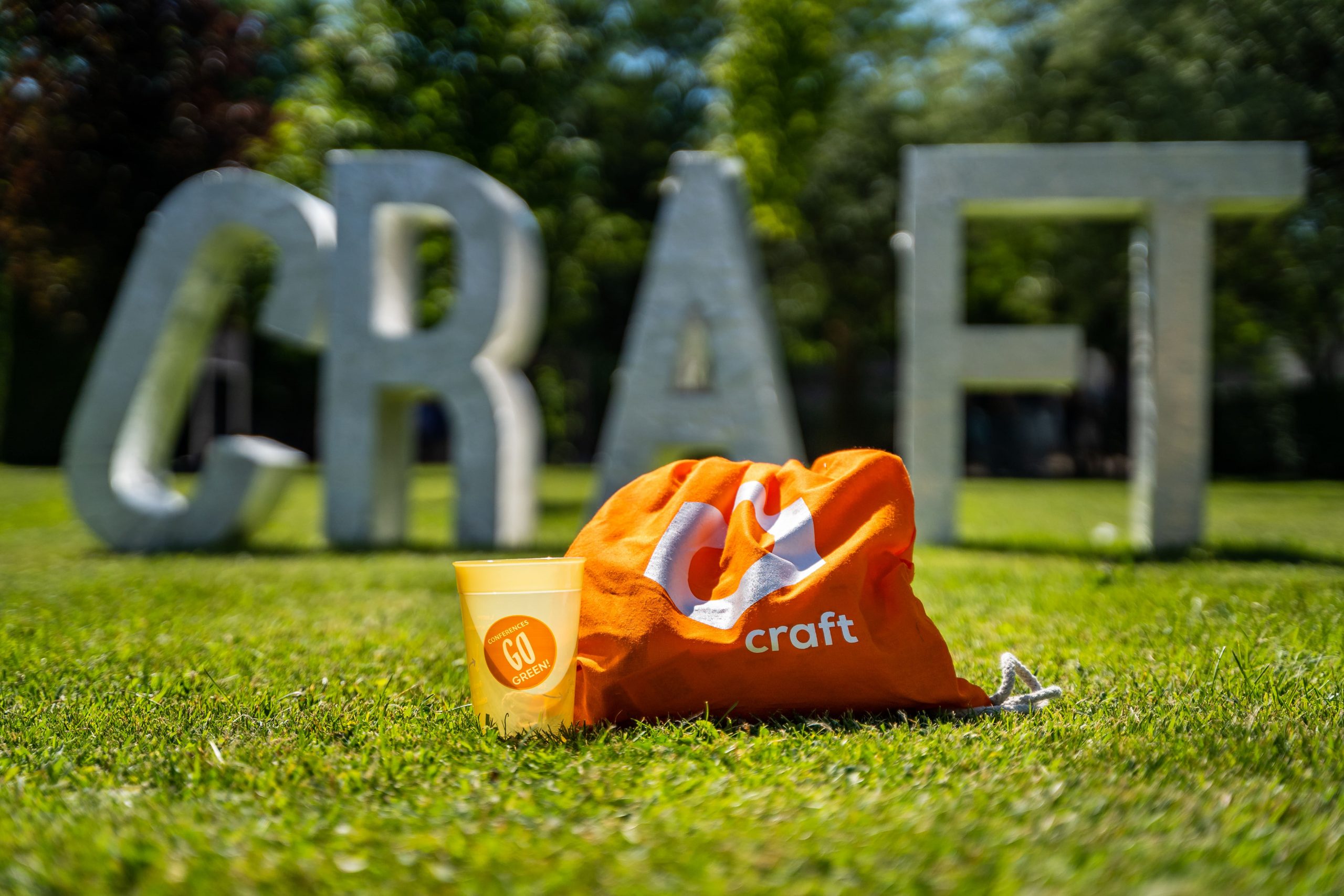 Craft Conference has been organized many times. It started way before COVID but not even a pandemic situation could stop the organizers. They believed that the developer conference could perform online as well. CraftHub, the organizer team, faced many challenges but still managed to organize the conference with 700+ attendees and 90 speakers. Despite the online success they could not wait to return in person which actually happened in 2022.
It seemed like the attendees could not wait either as the conference had more than 1700 attendees coming from all over the world to learn about the latest trends in software development and network with other techies. 
What made Craft Conference become such a huge event?
The question is, what made Craft one of the few developer conferences in Europe that is a must for all software crafters out there. That is what we asked from the founders of the event: Medea Baccifava, who used to be the Head of Conferences but today she is representing the company as Head of Sales, and Gergely Hodicska also known as Felhő who is the Head of Program Committee and responsible for the speaker lineup, topics and helping the event with his expertise.
Tell us more about the history of Craft! How did it start, and what was the idea behind it?
Médea: In 2012, Prezi and Ustream (later IBM Budapest Lab) decided to create international conferences in Budapest, which at that time did not exist in Hungary. After the success of MLOC.JS and Stretch Leadership & Management conferences that we have organized together, Felhő also suggested a conference, but this time a multi stage one. He dreamed about many stages and as the first shot we started with 3. I remember that Péter Halácsy (Founder of Prezi) did not believe in multi stage events but seeing the success of Craft he personally admitted his mistake to Felhő. The first Craft had 870 attendees without much marketing effort. We personally convinced attendee- to attendee and they loved the idea of Craft. I remember the thank you notes on Twitter going for hours after the conference.
Felhő: I liked the more niche events that we organized; on the other hand, I was curious about many other different topics. So as Médea said I wanted to organize a conference where we don't have such a constraint, and we can include many-many different topics, which meant we would need multiple stages. I also dropped the idea of having tracks, as it is very rare that all the sessions of a track are great.
What changed over the years about the concept?
Médea: Craft has become an unmissable developer conference in Europe for engineers. Also, it kept its vibe and slowly turned into an experience next to a great place to learn. We moved it to the Hungarian Railway Museum, which decorated the venue with 100+ years old locomotives and included fun activities like riding a mini train during the breaks.
Felhő: From a conceptual perspective, nothing changed. I try to keep the event as colorful and holistic as possible. Of course, as my mental model of successful product engineering improved, this was reflected in the topics we covered. From year to year, we try to improve the event to make it more useful for the participants. As an example, we introduced the concept of hands-on sessions, where we have longer, more practice-heavy sessions.
What is your goal with organizing the conference?
Felhő: I think Craft has a unique role in helping many people improve in their craft. The positive feedback is overwhelming (both from the audience and the speakers), so it is also a great responsibility to keep it great. On the other hand, this is similar to writing. Writing helps me think better. Organizing Craft helps me to better understand where our profession is, so it is also a learning experience for me thus it helps people working in this area to see where software development craft stands today.
Why do you think it is worth attending Craft Conference? What does it give to the attendees, speakers, and partners?
Médea: Craft is an experience. It is the yearly gathering of top speakers, past and current colleagues especially now that many people work from home or remotely. Actually, companies send their employees to Craft since many of them work remotely today so while they learn, they also get the chance for some team building.
Felhő: There are different levels one can gain at Craft. Many people told me that Craft practically changed their professional lives. They get inspired by other practitioners about many different aspects of their profession where they could and should improve. Otherwise, their knowledge and market value will decline. One can get a good impression of where our profession is and where teams/organizations should improve to get to or stay at an elite level. We keep a good balance to provide hands-on, practical knowledge that one can leverage on the next day in the office. Also to broaden the perspective of the participants, to show them new body of knowledge that they might not be aware of.
What do you think about why people love it so much?
Médea: Few years ago a book seller from O'Reilly Media who travels from conference to conference around the world told me that Craft has a soul. It has a feeling that very few events have. We care not only about knowledge sharing but also about design, sustainability and fun. Still we do this with an Eastern-European "flavor". Just like Ruin Pubs in Budapest they have a special feeling that is hard to copy.
Felhő: First, we created Craft from a passion and based on values. We created an event that we love as well. This is not necessarily tangible but we keep getting the feedback that Craft has a special vibe. Second, the holistic perspective we have and the diversity of the topics, speakers, and participants is also something that people really enjoy. Our audience is eager to learn, share their experience, so even the networking aspect of Craft is a great experience.
You mention a lot that one of the core values of Craft is the speakers. How do you select them and topics?
Felhő: Hmm, this is a question that is not easy to answer; there are many angles. First of all, I have a holistic view to consider all the topics which are important for a successful product engineering organization. Also, I try to continuously broaden my knowledge and perspective and be aware of all the topics which are already important or should be on the radar of the participants. Another thesis of mine was to ensure that the speakers enjoy the event, as in this case, the audience will also enjoy it. Even from this perspective, I always try to find topics that are not necessarily part of the mainstream or are related to adjacent areas of product engineering. Also, diversity has been one of our core values from the beginning. So I pay special attention to ensure this is reflected in the speaker line-up.
What are the topics that are going to be highlighted? Why do you think it is important to talk about them?
Felhő: From one perspective, organizing Craft is an ongoing activity. Anytime I run into an interesting topic, I take notes. I also reach out to speakers to learn from them what they see outside the world, I follow newsletters, check tech radars, get feedback from the participants of Craft, and check many other events to look for interesting gems. When I start working on the program, I put together a map of possible topics and speakers, and then I try to follow it as much as possible. This is not easy, as there are some constraints like who we can reach out to and their availability, etc. We also have a CFP (call for papers) process.
An important aspect is that the Craft audience consists of people who are eager to learn not just at the event but in general. So I try to consider the adoption of a given topic. For example, microservices are already a "boring" topic in general, as many of the forward-looking organizations have already started their adoption journey. On the other hand, how to manage the increased complexity that comes with a microservices architecture is still a challenge for most of the orgs.
Craft Conference is going to be between 18-19, May this year where you can listen to 70+ speakers on 7 different stages talking about various aspects of software craftsmanship.